The Authentifier.com certificate
Why use the independent accredited imaging laboratory Authentifier.com?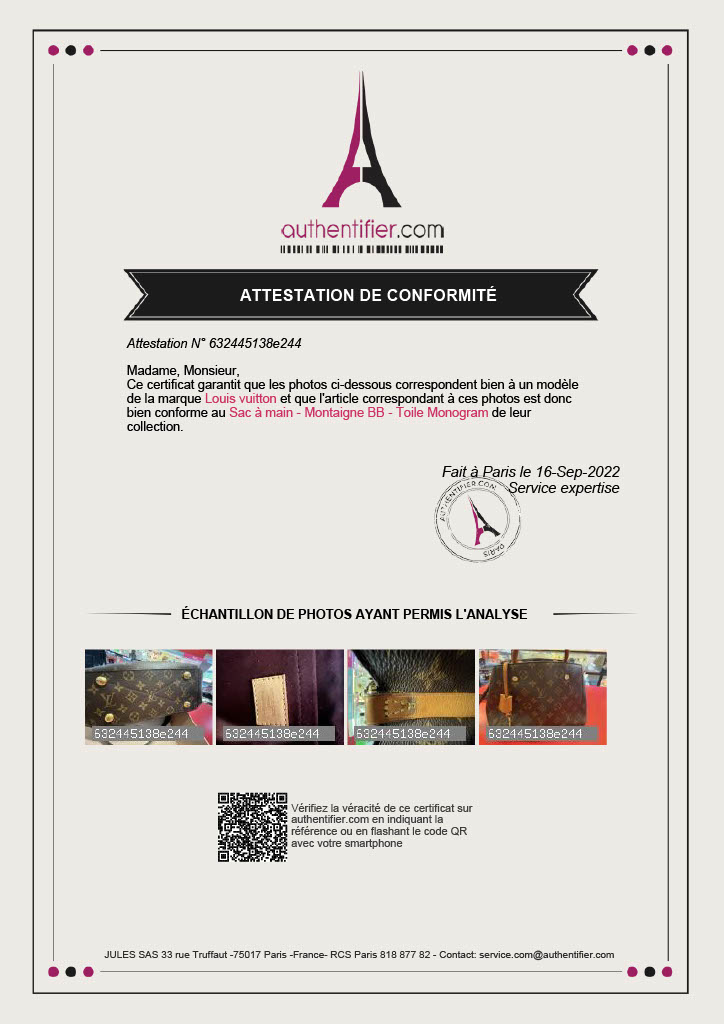 The advantages of the certificate of conformity
Obtaining an opinion from an independent and approved research laboratory means benefiting from the advantages of certification.
More information on the advantages of the attestation of conformity
As part of the fight against counterfeiting, PayPal and Authentifier.com help you secure your purchases of second-hand items online.

If you think you are the victim of a counterfeit purchase and you have paid for this purchase with PayPal, you have the option of requesting a refund.

To do this, you will need to demonstrate your good faith with PayPal, and ideally, prove that the item received is indeed a counterfeit.

Thus, by using our photo-based compliance analysis services and by sending your Authentifier.com non-compliance certificate to PayPal, you significantly increase the good faith of your request and you will obtain a faster refund.

We recommend systematically checking the authenticity of your second-hand items upon receipt, within hours of purchase.
The sale of second-hand luxury items from person to person represents an excellent opportunity to give a second life to your favorite accessories.

Unfortunately, fraud and counterfeit sales are creeping into online listings, making sellers and buyers more wary, and rightly so.

If you wish to sell some of your second-hand items online, we recommend that you bring a personal certificate of conformity issued by an independent service provider with no interest in the sale.

This is the case of the Authentifier house.

By indicating that you have a nominative certificate of conformity from Authentifier.com on your ad, potential buyers will prioritize your offer. This way, you will sell your item faster and at a potentially better price.

We therefore invite you to submit your analysis request in your Authentifier.com account before your items go on sale. As the certificate is valid for life, you can carry out the authentication process now.

After receiving your certificate within 4 to 72 hours, depending on the deadline chosen, publish only the QR code of the certificate in your ad, in order to preserve your identity while confirming your guarantee approach vis-à-vis potential buyers .

Simply indicate that you have a nominative certificate of conformity attached to this article, and that the latter is available on request and transferable to the name of the new buyer of the article.

Our teams are at your disposal to answer your questions and assist you in the purchase or sale of your items. Feel free to Contact us.
Most enthusiasts of shopping for second-hand items online face the same challenges: how to be sure to find an authentic item in a secure way?

It is indeed virtually impossible, with the naked eye, to separate the advertisements of genuine articles from counterfeits and other frauds.

This is why we have created a tailor-made service: purchase support.